Things To Consider While Selecting A Skid Steer Loader
Skid steer loaders are multi-purpose machines that are extremely important if you are working on a construction site, farm, or any other job site. Their features include easy manoeuvrability, agility, compact design, and efficiency. Due to these different features, there are different types of skid steer loaders out there, which can be overwhelming when buying or renting them. There are many things that you need to consider when choosing a skid steer loader. For this reason, we have compiled a handy guide on how to select a skid steer loader.
1. Size
When choosing a skid steer loader, size does matter. Like all good things, skid steer loaders come in a variety of sizes ranging from compact ones having rated operated capacity(ROC) approximately 800 kg to larger ones weighing 1100 kg! Take into consideration the size of your job site, its open spaces, and any obstacles that might hinder its manoeuvrability. Both the larger and compact skid steer loaders have their advantages and disadvantages. Larger loaders can lift higher and have better horsepower but can be quite frustrating to manoeuvre in a confined space. Compact loaders are more convenient to manoeuvre.Another thing to take into consideration is how you are going to transport your skid steer loader. While most loaders can fit in a trailer of any size, if you have already bought your trailer and truck, then you should make sure that the loader and the attachments fit into the trailer. This is the main thing you need to consider when you want to select a skid steer loader.
2. Usage And Job Site Surface
Things to be considered here are where and on what type of terrain will you be using the machine. Different typed of loaders work better on different types of surfaces. Compact track loaders are better to work on soft mud or rocky terrains, while compact wheel loaders find it challenging. The best terrains for them are hard, flat surfaces. Track loaders are also better on hazardous terrains like snow, sand, or wet surfaces because they glide over them rather than sinking in. However, one problem with the track loaders is that they are harder and more expensive to maintain. The rubber track wears out faster than wheels on surfaces like asphalt, and the parts are costly to replace. Rental companies also price their equipment accordingly, and paying more for a track loader is pointless if your job site has a hard surface.
3. Horsepower
The amount of horsepower a skid steer can provide is vital for its traction. The horsepower controls the driving of the attachments and the hydraulics. It used to be true that smaller loaders had less horsepower than larger machines. Smaller machines would provide about 50 horsepower, while a larger machine would have more than 80 horsepower. However, in recent years, this has changed, and loaders have been innovated to provide different amounts of horsepower in all sizes. Depending on the intensity of the job, you can find loaders with the right size and horsepower combination that suits you.
4. Lift
There are two different types of lifts in skid steer loaders- radial and vertical, which come with their advantages and disadvantages. A radial-lift is useful when work is being done at eye level or below. For example, if your work consists of a lot of digging or landscaping, then consider using the radial-lift. It also provides better visibility and reachability in front of the machine. A vertical lift works better when using it to access higher spaces that are above eye level. For example, work that involves lifting and placing things. They can lift heavier loads than the radial-lift loader. It should be noted that the lift of the skid steer loader doesn't matter much if you are using it for a range of applications. But if you are using it for a specific job, then choosing the correct lift is essential.
5. Additional Attachments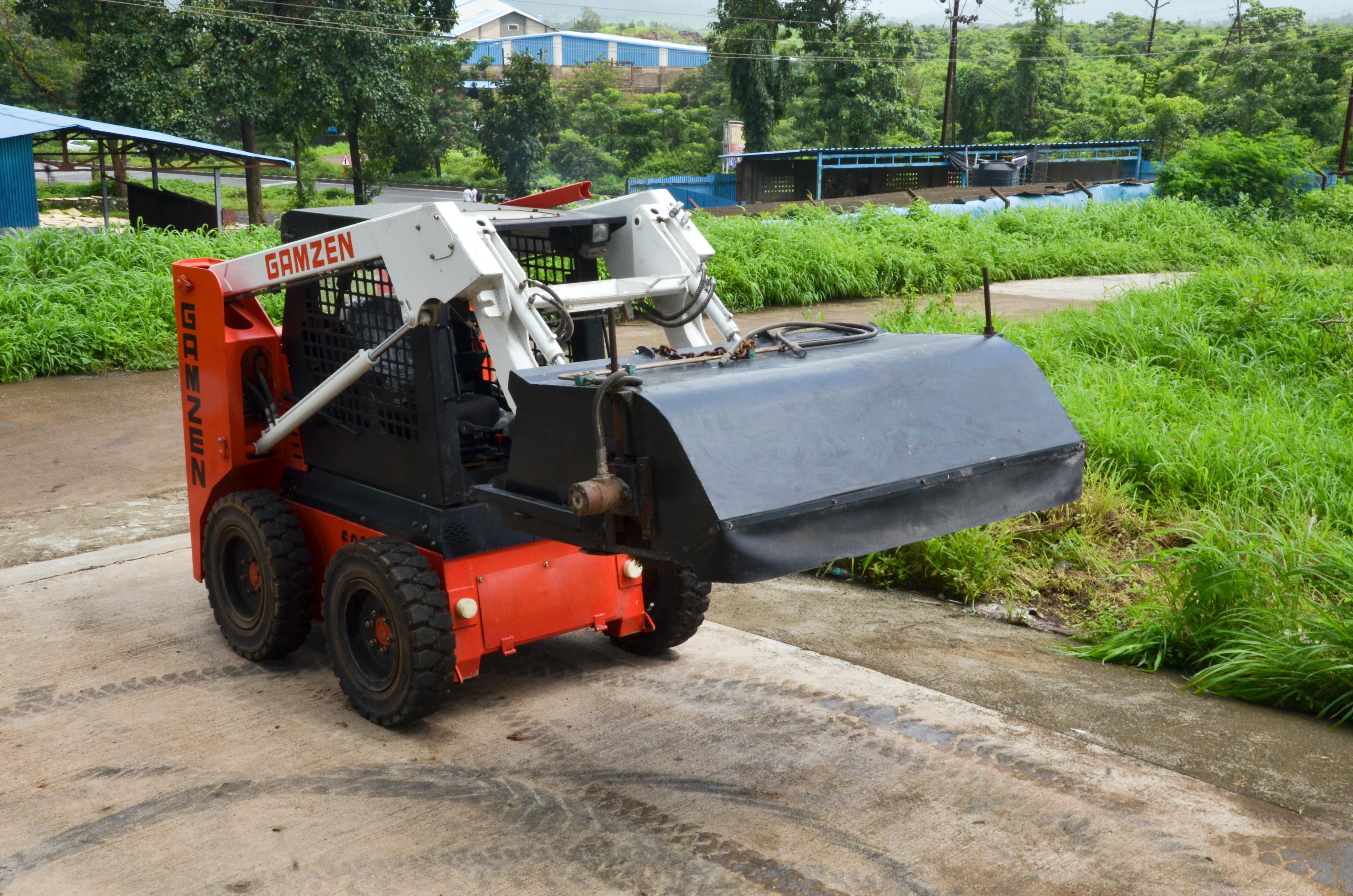 The additional attachments in the skid steer loader boost the efficiency and capabilities of the loader. The different types of attachments are augers, backhoe, mulchers, saw trenchers, tree saw and grapples. Every skid steer is not compatible with all the attachments; therefore, if you know which skid steer you are going to use, then make sure your skid steer has enough power to support it. For example, a grapple or hydraulic attachment can work with a small skid steer, but saw trencher and sweeper require much more power and thus require skid steer with 80hp engine. A hack for using high power attachments with low power machines is to add high flow systems. The power of the skid steer shouldn't be your only consideration while choosing attachments. Radial-lifts loaders have fewer moving parts and are hence better suited for attachments that cause high stress or vibrate since they are less susceptible to damage.
6. Hydraulics
You absolutely cannot overlook hydraulics when buying or renting a skid steer loader. Hydraulics run the attachments, and by not using a high flow hydraulic system, you underutilize your loader. As stated in the previous point, a high flow hydraulic system helps high power attachments work in low power skid steer loaders. Even if you are not using high power attachments, the high flow system makes the low power attachments run smoother than when running without hydraulics. Overall a high flow system maximizes efficiency and boosts productivity
7. Functional Features
Another critical thing to consider is the functional features of the skid steer loader. When trying to narrow down the choice of which loader to use, assessing the functional features can come in handy. For example, loaders with headlights can vastly improve safety when working early during the day when the sun is still rising or working in places where the sun sets early. Another feature is large tires. They enhance stability and provide extra reachability. The feature of the 360-degrees view from the operator's cabin can be useful when working in crowded areas.
In conclusion, knowing what things to take into consideration and how to select skid steer loader is extremely important. Different things must be taken into consideration, like the surface of the job site, attachments, hydraulics, usage, size, and lift. Overlooking even one of these would significantly decrease the productivity and capabilities of the skid steer loader. Afterall, skid steer loaders can be quite expensive, and you need to get your money's worth and make sure that the job is done well.