MINI MOBILE BATCHING PLANT 
We are looked upon as one of the most dependable Mini batching plants Manufacturers and Exporters from India. We are proud to say that we are the only indigenous manufacturers of concrete mixers with a both diesel engine as well as an electric motor. The unmatched quality and inexplicable performance of the Diesel Concrete Mixer have attracted various national as well as international clients to place bulk orders. The use of optimum quality materials in the manufacturing of the Portable Mini mobile batching plants are of optimum quality that ensures notable features like high durability, tensile strength and resistivity to various adverse condition.
Reversible Drum Mixer comes in 4 variants that are 500 RM, 750 RM, 750 RD and 1100 RM. Gamzen's Mini Mobile Batching Plant Is manufactured with the best quality material, It is time saving capacity drum that can be used for any construction work. The advantage that the reversible drum mixer has over the other mixers is that it has a high working efficiency and a stable and homogenous mixing.
The Gamzen Mini Mobile Batching Plant – the perfect solution for all your concrete mixing needs! This compact, mobile batching plant is ideal for small to medium-scale construction projects, allowing you to produce high-quality concrete on-site without the need for a large concrete plant. With a wide range of features and benefits, the Gamzen Mini Mobile Batching Plant is the perfect choice for any construction project.
One of the key features of the Gamzen Reversible Mixer is its compact design. This plant is designed to be transported easily, with a lightweight frame and wheels that make it easy to move from site to site. Whether you need to mix concrete for a small building project or a larger construction site, the Gamzen Reversible Mixer can be quickly and easily set up wherever you need it.
In addition to its compact design, the Gamzen Reversible Drum Mixer is also incredibly versatile. It can be used to mix a wide range of materials, including concrete, cement, and mortar. This makes it the perfect choice for a variety of construction projects, from small-scale home renovations to larger commercial developments.
The Gamzen Reversible Drum Mixer also features a high-quality mixing drum, which is designed to produce consistent and high-quality concrete. The drum is made from durable materials that can withstand even the toughest of conditions, ensuring that your concrete will be of the highest quality no matter where you use it.
Another great feature of the Gamzen Mini Mobile Batching Plant is its easy-to-use control panel. The panel is designed to be simple and intuitive, allowing you to quickly and easily control the batching process. This means that you can produce high-quality concrete with minimal training or experience.
Overall, the Gamzen Reversible Mixer is the perfect solution for anyone looking to produce high-quality concrete on-site. With its compact design, versatility, and range of features, it is the ideal choice for small to medium-scale construction projects. So why wait? Contact us today to learn more about the Gamzen Reversible Drum Mixer and how it can help you achieve your construction goals!
MINI MOBILE BATCHING PLANT 1100 RM
MINI BATCHING PLANT 750 RM/RD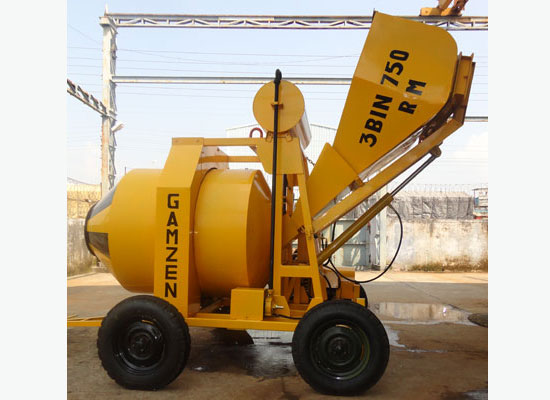 Gamzen also provides fully automatic mobile batching plant from a capacity of 30 cu.m/h to 240 cu.m/h. For a wider range of concrete output check out Gamzen's concrete batching plants.
What Is Mini Batching Plant?
Mini Batching Plant is also known as reversible mixers or concrete mixers. They have the smaller batch capacity and are not fully automatic. They are manufactured with an electric motor as well as the diesel engine.
what are the unique features of Gamzen's Reversible Mixer??
"Gamzen's reversible mixer has following unique features:
1. Chasis is made up of hollow rectangular and square sections.
2. Mild Steel gear ring.
3. The reversible mixer is driven by 1:8 gearbox.
"

GAMZEN PLAST PRIVATE LIMITED
B-19, Sussex Industrial Estate
D.K Cross Marg, Byculla East
Mumbai- 400027, INDIA
Phone:  +91 8320215806