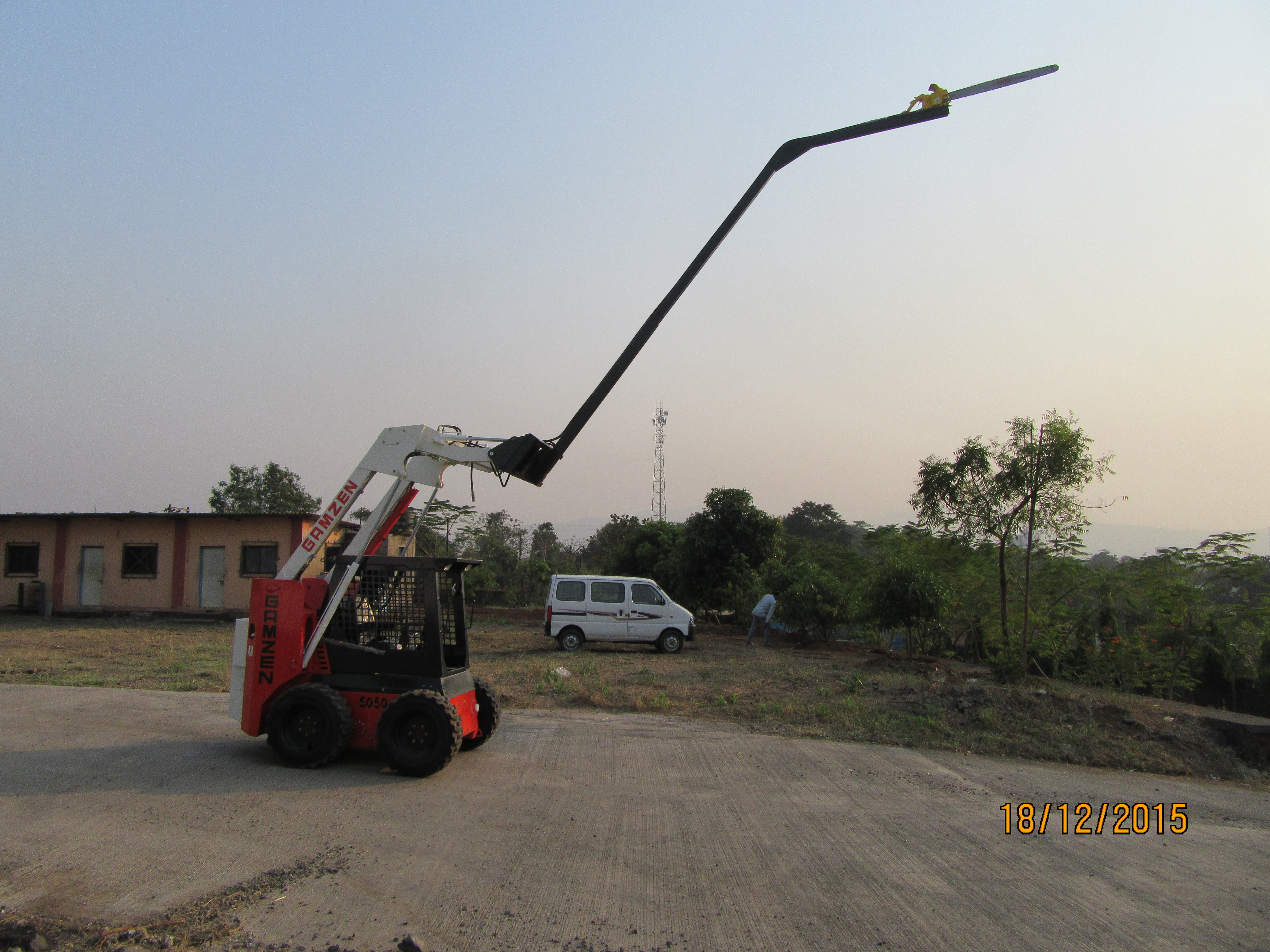 Introducing the ultimate solution for your tree-cutting needs: the Skid Steer Tree Saw Attachment, now available from Gamzen. Whether you're a professional landscaper, contractor, or simply a homeowner looking to maintain your property, this powerful attachment can make quick work of even the toughest tree-cutting jobs.
The Skid Steer Tree Saw Attachment is designed for use with skid steer loaders, providing a reliable and efficient way to cut down trees and branches. With a heavy-duty blade and powerful cutting action, this attachment can handle trees of all sizes and thicknesses, making it a versatile and valuable addition to any job site.
Tree saw attachment is used in the cutting of extended tree branches falling on roadways, buildings, parking lot, driveways, etc. It cut-offs the manual efforts of cutting tree branches. The skid steer machine is fully hydraulic operated thus makes the job a lot easier. The operator working is also very safe as the task is performed while sitting in the cabin.
Tree Saw attachment has sharp blades that cut the branches perfectly. Gamzen Provides the best quality tree saw attachment that can be used with any skid steer.
One of the standout features of this attachment is its ease of use. With a simple hook-up process and intuitive controls, even novice operators can quickly become proficient with the Skid Steer Tree Saw Attachment. And because it's designed to work seamlessly with skid steer loaders, you can be sure of a tight and secure connection every time.
When it comes to cutting power, the Skid Steer Tree Saw Attachment does not disappoint. The high-speed cutting blade is capable of slicing through even the toughest wood with ease, while the multi-directional blade motion ensures a clean and precise cut every time. This means you can work quickly and efficiently, getting more done in less time and with less effort.
In addition to its impressive cutting power, the Skid Steer Tree Saw Attachment is also built to last. Made from high-quality materials and featuring a rugged construction, this attachment can withstand the rigors of regular use in even the most demanding job sites. And because it's backed by Gamzen's reputation for quality and reliability, you can be confident that you're making a smart investment in your business or home.
So whether you're looking to clear land, maintain your property, or take on large-scale tree-cutting projects, the Skid Steer Tree Saw Attachment from Gamzen is the right tool for the job. With its combination of power, durability, and ease of use, this attachment is sure to become an indispensable part of your tool kit. Contact us today to learn more about this exciting product and how it can benefit your business or property.

GAMZEN PLAST PRIVATE LIMITED
B-19, Sussex Industrial Estate
D.K Cross Marg, Byculla East
Mumbai- 400027, INDIA
Phone:  +91 8320215806